Health Kits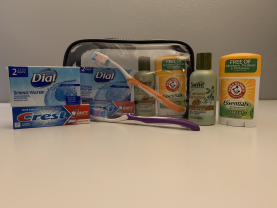 Every year, we put together over 2,500 health kits for the Back to School Bonanza and we need your help!
This year we are making a travel size kit for each student in a reusable clear pouch. The kit will contain a travel-size shampoo, travel-size toothpaste, a bar of soap, deodorant, and a toothbrush. We will be purchasing most of these items in bulk. We are asking for congregation members to bring the bars of soap and travel-size toothpaste. If you would like to donate items, please use the Market to Mission bags to bring your donations on Sunday mornings. You may drop those off in the red wagons located in both worship spaces.

Each kit, with the pouch, costs $10 to assemble. If you would like to make a monetary donation so that we can buy these items in bulk, please click below to make your donation. For more information about Health Kits, please contact Valerie Salaiz.